This program is addressed to graduates of public or private hairdressing schools. It is also addressed to hairdressers with less than 3 years of experience who have needs in specific hairdressing services and want to make a fast dynamic recap, in order to perfect their technique.
The duration of the program is 6 months and the monitoring of the program is from Monday to Thursday, with a lesson duration of 3 hours daily.
With this specific program, Prestige Telis Kikeris School of Hairdressing & Esthetics helps students to acquire a solid foundation on which to develop their professional skills. It includes absolute expertise in men's and women's haircuts and technical dyeing works with daily practical application.
The classes are small (up to 10 people) in order to ensure the best education provided, which is achieved in combination with the absolute expertise of the instructors of the Prestige artistic team.
Our training team consists of renowned hairdressers - trainers.
Each instructor is completely specialized in the service he teaches, as our team consists of experienced hair stylists, colorists and barbers.
2 months women's haircut
2 months color techniques
2 months men's haircut
Basic haircutting techniques
Square Baseline
(Round Baseline-V-shape-Round to square)
Square Layers profile
(Round Layers-Triangular Layers)
Short to long layers
Adding layers on graduation
Concave
Square Bob
A Line Bob
Layered Bob
Low-high graduation with baseline
Low-high graduation without baseline
Silhouette
Graduated layers one length
A Line graduation (short)
Round graduation (short)
Pixie
Bangs
Fringes
Basic color techniques
Color study
Lightening base
Color theory/Color practice
Highlights classic-double-vertical
Pigments tones
Natural lightening
Products
Semi permanent colors
Root touch up
Darkening
Base darkening
Mortanchage
Lightening
Color combination
Color shampooing
White hair
Vertical/Double highlights
Ballayage
Toning
Decoloration
Ombre
Basic men's haircut techniques
Square line
Square layers (Profile)
Messy mop
Square Layers horseshoe
Triangular layers
Mullet
Square layers overdirect
The mod
Side swept
Business cut
Middle part
Rockabilly
Quiff
Faux Haux
Flat top
Executive contour
Disconected quiff
Pompadour
Scissor over comb
Clipper over comb
Presentation & hands on practice every day
24 women's haircut techniques
24 color techniques
18 men's haircut techniques
Small group classes
Every day hands on practice
4 times a week attendance
3 hour classes
All year round admittance
HAIR ARTISTIC TEAM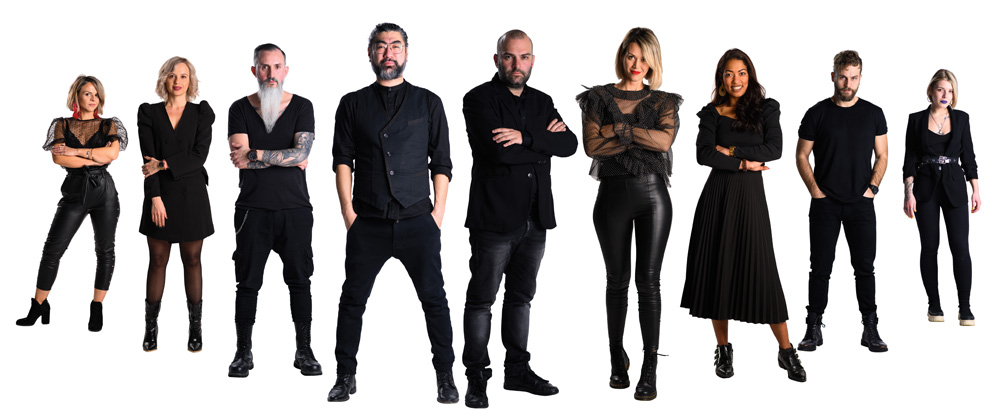 Meet our artistic team by clicking here.