The basic hairdressing training of Prestige Telis Kikeris hairdressing and beauty school is addressed to young people who want to get involved in hairdressing.
The program's duration is 12 months and the attendance is from Monday to Friday and the duration of every class is 3 hours daily.
Choice of morning (10:30 – 13:30) or evening (17:00 – 20:00) classes attendance.
All the hairdressing services are taught, women and men's haircut, color services, hair styling and chignon.
The curriculum fully covers the needs of a modern salon and aims to prepare its graduates to achieve a very high technical level expertise.
There are small group classes so that the optimum training quality is achieved.
The educational team of Prestige Telis Kikeris hairdressing and beauty school is comprised of achieved hairdressers – educators.
Each educator is completely specialized in the service he teaches, as our team is comprised of experienced hair stylists, colorists and barbers.
11 Weeks
11 Weeks
11 Weeks
11 Weeks
Women's cut
Color
Styling
Men's haircut specialization
Basic haircutting techniques
Square Baseline
(Round Baseline-V-shape-Round to square)
Square Layers profile
(Round Layers-Triangular Layers)
Short to long layers
Adding layers on graduation
Concave
Square Bob
A Line Bob
Layered Bob
Low-high graduation with baseline
Low-high graduation without baseline
Silhouette
Graduated layers one length
A Line graduation (short)
Round graduation (short)
Pixie
Bangs
Fringes
Basic color techniques
Color study
Lightening base
Color theory
Color practice
Classic highlights
Double highlights
Vertical highlights
Pigments tones
Natural lightening
Products
Semi permanent colors
Root touch up
Darkening
Base darkening/Mortanchage
Lightening color
Combination color
Shampooing
White hair
Double highlights
Vertical highlights
Ballayage/Ombre
Toning
Decoloration
Styling face study
Straightening flat and with volume
Inward and outward hairstyle
Rolleys
Backcombing/Pony tail
Afro with pins
Victoria rolls
Mohawk/Banana
Beach waves
French braid
Dutch braid
Hanging braid
Four part braid
Diffuser styling
Knots
Vang/Waterslide
Styling with:
-cushions
-net
-flat irons
Half braid
Double banana
Fishbone
Charleston
Backcombing techniques
Low chignon
High chignon
Bridal
Basic haircutting techniques
Square line
Square layers (Profile)
Messy mop
Square Layers horseshoe
Triangular layers
Mullet
Square layers overdirect
The mod
Side swept
Business cut
Middle part
Rockabilly
Quiff
Faux Haux
Flat top
Executive contour
Disconected quiff
Pompadour
Scissor over comb
Clipper over comb
Tips
-Clean/Balanced
-Methodical
-Over direction/Pivotining
-Bland cutting/Personalize
Tips
-Theory/Lightening
-Ballayage/3D technique
-Ombre/Diagnosis
-Color correction
Tips
-Consultation
-Diagnosis
-Products
Tips
-Scissor over comb/Blending
-Clipper haircut
-Thinning scissors haircut

Presentation & Hands on practice every day

24 women's haircut
techniques
24 color techniques
Complete styling program
16 men's haircut
techniques
There is the potential of an extra 3-month specialization in men's haircuts for complete specialization.
Small group classes
Everyday hands-on practice
Everyday attendance
3 hour classes
Classes: 10:30 – 13:30 / 17:00 – 20:00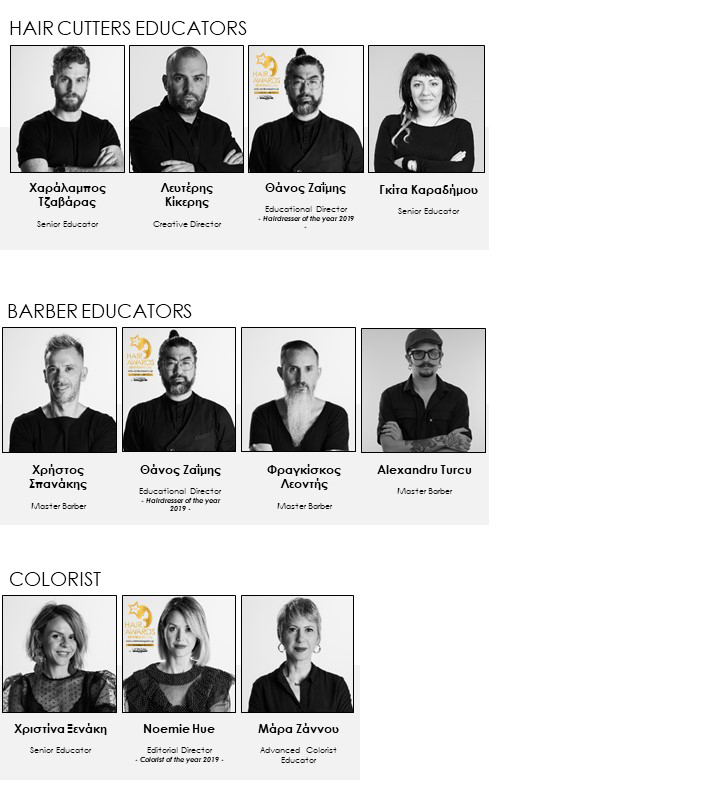 Meet our artistic team by clicking here.
For more information, contact us here.