The Institutes for Professional Training are part of the non-compulsory meta-secondary Education and provide official but not gradable training, as they accept graduates of both High School and Junior High School, depending on the specialties they offer.
I.IEK Prestige Telis Kikeris is the only I.IEK with absolute specialization and 40 years of experience in beauty professions with 15 successful hair salons.
The certificate of professional training is recognized in Greece and abroad, on a level of meta-secondary education.
It validates the professional rights of the graduates for every specialty.
The attendance is approved by the ministry of education in four semesters of study and one semester of practice.
After the fifth semester, the working permit is provided in the form of exams.
The degree is equivalent of the Greek national degree and provides 150 points in any possible ASEP exams that the graduate may take part in.
A Voucher with funding for working positions that ensures our graduates of a steady professional career.
The educational team of Prestige Telis Kikeris hairdressing and beauty school is comprised of achieved hairdressers - educators.
Each educator is completely specialized in the service he teaches, as our team is comprised of experienced hair stylists, colorists and barbers.
Military service postponement.
Hairdressing Curriculum:
1st semester
2nd semester
3rd semester
4th semester
Basic haircutting techniques
Part 1/3
Basic haircutting techniques
Part 2/3
Basic haircutting techniques
Part 3/3
Basic men's
haircutting techniques
Square Baseline
Square Layers Profile
Square Bob
Low Graduation with baseline
High Graduation with baseline
Graduated Layers one length
Round Layers
Round Baseline
Short to long Layers
Triangular Layers
A Bob Line
Bangs
Low Graduation without baseline
Adding Layers on Graduation
Round Graduation
V-Shape Baseline
Round to square Baseline
Concave
Fringes
Layered Bob
Silhouette
A Line Graduation
Pixie
Square layers profile
Square layers (Horseshoe/Overdirect)
Mullet/Messy Mop
The Mod/Rockabilly
Flat top
Triangular layers
Middle Part/Quiff
Side Swept
Executive Contour
Scissor over Comb/Clipper over Comb
Basic Styling techniques Part 1/4
Color Part 1/2
Color Part 2/2
Technical services
Styling theory
Styling face studies
Shampooing
Mis en plis
Inward styling
Outward styling
Vertical styling
French braid
Afro with pins
Color study
Lightening base
Color theory
Color practice
Classic highlights
Double highlights
Vertical highlights
Pigments tones
Natural lightening
Products
Semi permanent colors
Root touch up
Darkening
Base darkening
Mortanchage
Lightening
Color combination
Color shampooing
White hair
Double highlights
Vertical highlights
Ballayage
Toning
Decoloration
Ombre
Technical services theory
Classic permanent
Block permanent
Double permanent
Hanging permanent
Permanent – Root lift
Classic straightening
Keratin theory
Basic Styling techniques
Part 2/4
Basic Styling techniques Part 3/4
Basic Styling techniques
Part 4/4
Evening hairstyles
Dutch braid
Hanging braid
Beach wave
Flat straightening
Straightening with volume
Inward straightening
Outward straightening
Inward curls
Outward curls
Backcombing techniques
Fishbone
Classic short
French braid
Backcomb and straightening
Backcomb and curls
Diffuser
Straightening with ceramic brush
Charleston with ceramic brush
Vang waterslide
Straightening with flat iron
Classic short style
Ponytail/Bow
Curl waterfall
Updo with flat iron
Half updo straight
Half updo curly
Low ponytail
Flat iron curl with flat iron
Half updo classic
Victoria Rolls
Double banana
Russian Style
Bohemian Style
French Style
Spanish Hair-up
Freestyle
Mermaid Style
Toaster styling
Net styling
Low Chignon
Bridal Chignon
Eccentric Chignon
Editorial
Classes begin every October and February
Small groups
Every day hands on practice
Specialized instructors according to the curriculum
Classes: 10:30 – 13:30 / 14:00 – 17:00 / 17:00 – 20:00
HAIR ARTISTIC TEAM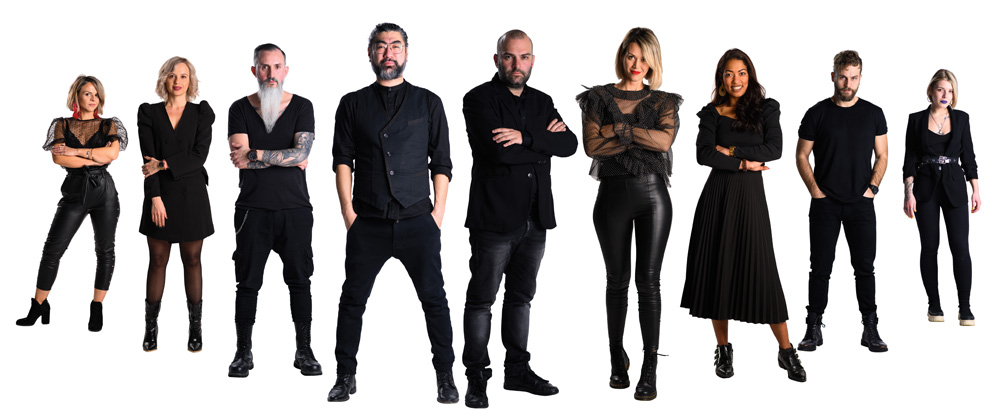 Meet our Artistic Team here